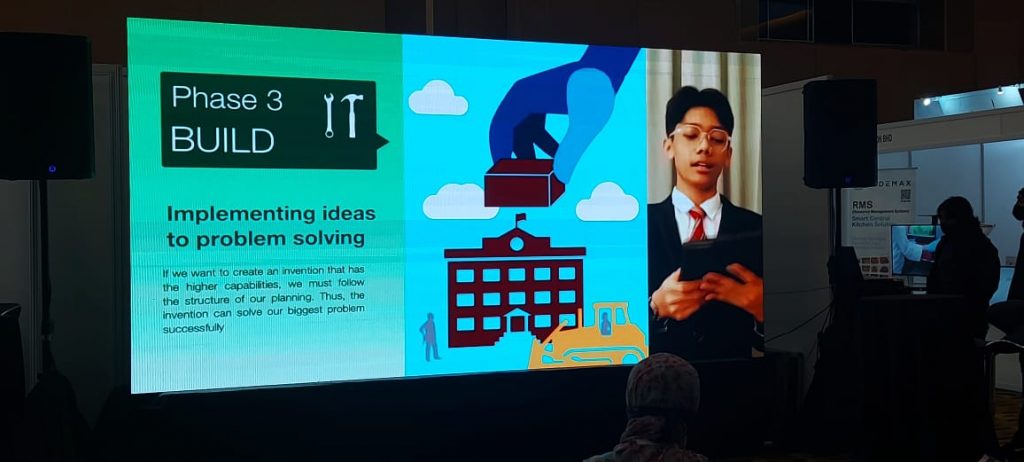 The STEM AR Challenge was held on the 20th and 21st of November 2021 in Conference Halls 1, 2 and 3 at the Kuala Lumpur Convention Centre. Four Form 3 students have been chosen to be a part of this challenge. They are:
1. Muhammad Ridhwan Fahim Bin Jasli
2. Muhammad Umar Bin Mohamad Nadzrie
3. Hariz Arriyan Bin Mohamad Sakri
4.Azri Nurhafiz Bin Azahar
They opted Biomimicry concept for this AR Challenge. The idea is to create an artificial tree that could decrease impacts of air pollution by reducing amount of carbon dioxide in the atmosphere. ARtificial Tree is the biomimicry product that they came up with. This product mimics the process of photosynthesis that takes place in a tree. This creation is meant to help humankind as an alternative. The best method to eradicate air pollution is still reforestation.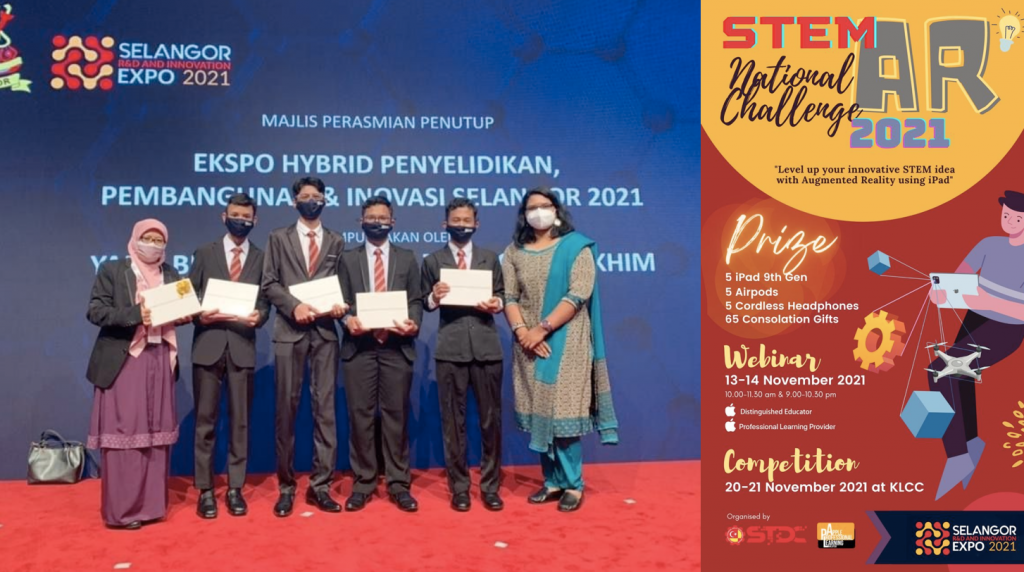 There are 4 phases in creating ARtificial Tree.
PHASE 1: EXPLORE
The world is plagued with two major issues, namely air pollution and poverty. Studies have shown that these two issues are highly interconnected with each other. Countries with low and middle incomes have been shown to have the worst air quality.
PHASE 2: PLAN
Public awareness and technology are the only ways forward to overcome these issues. In order to improve the quality of life of human beings, technology should be efficient, resilient, and most importantly, sustainable. Biomimicry is the most fitting choice considering it fulfils all the criteria mentioned previously. The conceived concept is Artificial tree. Photosynthesis and electrolysis, along with the combination of nanotechnology and pressure with the aid of electrical and electronic components, would be the backbone of this concept.
PHASE 3: BUILD
The model is created with propellers, pipes, and solar panels. The generation of electricity through solar panels would allow for the carbon dioxide that had been absorbed to be stored. The water would undergo electrolysis. Hydrogen and carbon dioxide would be stored together. The carbohydrates would be preserved using nanotechnology.
PHASE 4: EVALUATE
This creation would be able to eliminate air pollution related issues, which would directly impact the world population positively. With research and development, Artificial Tree would be an essential creation which could further human exploration in space.
In the first round, students prepared the videos for the panel of judges. The judges also visited the booth. These students managed to be shortlisted into the final round. In the final round, they presented their ideas thoroughly and managed to answer questions from the panel of judges. They won the 1st prize in the STEM AR Challenge.